During the week of July 5th through the 12th, Sir Christian and Lady Maureen visited Florida. The purpose of the trip was two-fold. Firstly, it was a visit to Sir Christian's parents who live in Sun City Center, Florida. Secondly, and equally as important, it was a trip to visit the newly formed Southern Preceptory of the Order of Selohaar. Since the inception of the Southern Preceptory, Sir Mark, its preceptor, and Sir Christian have collaborated on sowing the seeds that would bear fruit, i.e. membership.

Sir Mark has been a student of Mi Zong Luo Han Style Kung Fu at Tang Martial Arts in Bradenton, Florida, studying under Sifu Leng Tang. Sir Mark's daughter, Mistress Ariana also attends the Kung Fu school and practices with her father. Because of the knightly attachment to the sword, Sir Mark has trained Mistress Ariana in the basics of its use. Sifu Leng witnessed Mistress Ariana defeat all her classmates with the sword, and was impressed at the skill level that far exceeded her age range and class level.

Sir Mark and Sifu Leng discussed swordsmanship, comparing Eastern and Western styles. Intrigued, Sufi offered his facility to Sir Mark and Sir Christian for a half-day seminar. This was a fortuitous seed to be sewn, as a seminar outdoors in Florida in July, would have been brutal.

On July 7th, 8 students and 2 masters attended the workshop. Sir Christian and Sir Mark led a course in the fundamentals of the art of Master Johannes Liechtenauer, founder of one of the greatest of the medieval fighting traditions.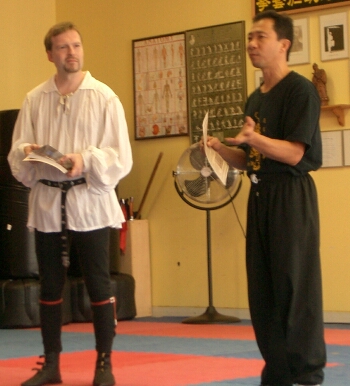 Sifu Leng introduces Sir Christian