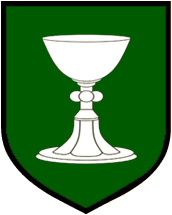 as spoken by Sir Keith
"No longer is the magick of our unity, which is symbolized by the Grail, confined or limited to a singular location; for now, wheresoever a Knight of Selohaar be, there be the magick also."
"It was not merely in the discovering of the Grail, but also in the searching, that its secret was revealed. That which was lost to us, first kindled by the original three knights, has now been retrieved."
"You and the land are indeed one...and it is to you, my Lord Christian, that I most humbly and with glad heart present this Grail. May it ever remain as a symbol of our most worthy Order."
The Chalice of the Grail was presented to Sir Christian Henry Tobler, Grand Master of the Order of Selohaar on the Fifth Day of September, in the year Nineteen Hundred Eighty-Seven.


R9206.15