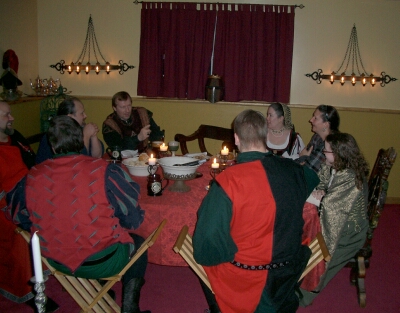 Sir Carl regales the company in the Feast Hall at Selohaar Manor
Selohaar Manor, sometimes simply known as "the Manor," is the home of Sir Christian Tobler and Lady Maureen Chalmers and the headquarters of the Order of Selohaar. As well as hosting most Selohaar meetings, or "Gathers," it is home to historic martial arts classes, seminars, open house nights, and other Order-related social occassions.
Save for a medieval banner fluttering in the breeze, from the outside the Manor appears to be an ordinary comtemporary home. However, Selohaar members and guests will find the interior adorned with tapestries, several full harnesses of functional armour on display, and its rooms often lit by candle and fire light.
In the warmer months, a colorful pavilion dominates the Manor's grounds, and the Order holds archery competitions and armoured tournament fighting during the day, and outdoor magic circles at night, lit by torchlight.